Overview
Brand identity is no longer just conveyed through a company's output. Experiential workspaces that project a company lifestyle are now in vogue, and just as likely to draw press coverage as a hot new product. The burgeoning tech scene in Downtown L.A. is just one of the area locales buying into the trend. From Culver City to Venice, young corporations and established firms are putting down colorful roots. These are the top 10 office architects in Los Angeles translating workplace ethos into progressive designs.
Top Architects
Aaron Neubert Architects, Inc. (ANX)
Architects:
Aaron Neubert, FAIA
Awards:
AIA Los Angeles Design Merit Awards, AIA Los Angeles Next LA Honor Awards, AIA San Fernando Valley Design Merit Awards
Address:
2814 Rowena Avenue, Suite 1, Los Angeles, CA 90039
About Aaron Neubert Architects, Inc. (ANX)
An award-winner for both residential and commercial projects from the AIA Los Angeles and San Fernando Valley, ANX or Aaron Neubert Architects has created poetic designs on the most challenging of sites. Aaron Neubert, FAIA, draws on over 24 years of design experience as he fuses light, materiality, and landscape in every project, whether it's a home, a hotel, a restaurant, or an institutional facility. He holds a bachelor's degree in Architecture from the University of Florida, a master's from Columbia University's Graduate School of Architecture, Planning, and Preservation, and he also spent a year at the Vicenza Institute of Architecture in Italy. Neubert has passed on expertise to younger architects, teaching and serving on the jury with institutions such as The Royal Danish Academy of Fine Arts, the Southern California Institute of Architecture, and his alma mater, Columbia.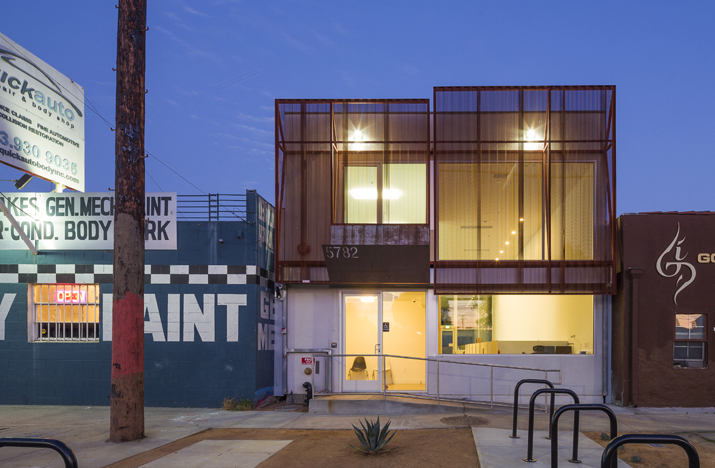 Featured Projects
ANX designed Pacific Shore Property Management's office on a 2,500 square foot parcel on Venice Boulevard. Dubbed the "Light Box," the structure harnesses the natural solar conditions through skylights within the ceiling slots and a perforated steel screen on its façade as it blends into the streetscape. The interior is defined by the double-height rift sawn white oak walls, creating staff seating, a waiting room, a conference room, two management offices, as well as restrooms on the ground floor, with more workrooms and storage areas on the mezzanine floor. The project was featured on Archdaily upon its completion in 2016.
---
Eric Owen Moss Architects
Architects:
Eric Owen Moss, FAIA
Awards:
American Academy of Arts Award in Architecture, AIA Los Angeles Gold Medal, Los Angeles Architectural Award
Address:
8557 Higuera St Culver City CA 90232
About Eric Owen Moss Architects (EOMA)
Innovative and thought-provoking, Eric Owen Moss Architects has won over 100 design awards. The firm has designed over 50 unconventional buildings in the Los Angeles area, many of which have turned Culver City's Hayden Tract into a focal point for experimental commercial architecture. Beginning work there in the 1980s, they continue to bring avant-garde concepts to life for companies such as Nike, Beats by Dr. Dre, and AOL. With work featured in GQ, The Economist, and LA Times, and a style evocative of science fiction, EOMA has made a name for itself beyond the world of architecture.
Los Angeles native Eric Owen Moss established his eponymous architecture firm in 1973. The American Academy of Arts and Letters awarded Moss the Academy Award in Architecture, and the AIA LA awarded him a Gold Medal.
Featured Projects
An enormous steel and concrete structure perches in Culver City, cubic wings extended out from its sides. EOMA's Pterodactyl offices, designed for the marketing agency Omelet, sit atop an 800-car parking structure that serves as a podium for the intersecting rectangular building blocks of the main building. A second-floor bridge connects the nine adjoined boxes slotted at varying angles into the bowed structure. The building won a Next Award and a Merit Award from AIA LA, and an LABC Award of Excellence. Also in Hayden Tract, EOMA designed a similarly daring building, The Beehive, an 11,000 square-foot spiraling structure among contiguous warehouses. Exterior stairs connect interior spaces to a stepped, rooftop deck with space enough for company meetings. At the center, a pyramidal skylight draws the sun into a conference room and reception area. The Beehive design was a 2016 LA Architectural Award Winner, and its groundbreaking construction earned an NCSEA Excellence in Structural Engineering Award.
---
HLW International
Architects:
Mark Zwagerman, AIA, and Sejal Sonani, AIA, LEED AP
Awards:
Los Angeles Business Council Design Award
Address:
1556 20th St Santa Monica CA 90404
About HLW International
One of the ENR Top 500 Design Firms and Top 225 International Firms, HLW International's client list speaks to the quality of their work. One of five offices worldwide, HLW's Santa Monica location opened in 1995 and has driven their success in building design for local entertainment clients. ESPN, HBO, IMAX, and NBC are just a few of the creative giants who have retained HLW's design services.
HLW International has its roots in New York City when its earliest architecture subsidiary got started in 1885. At this stage, the firm was already working on iconic buildings like The New York Times building, which gave Times Square its moniker. Eighty years later, the firm was renamed Haines Lundberg Waehler (HLW) and expanded its offerings to include landscape architecture and lighting design.
Featured Projects
HLW International redesigned a 1959 brick building for Red Bull's North American headquarters in Santa Monica. A functional 420-foot skate ramp undulates down the center of the office, paying homage to Red Bull's extreme sports affiliations, and the surf and skate culture of the neighborhood. The ramp flows out of the building into an open-air courtyard, which is separated from the office by a glass bifold door. For Google's Venice campus, HLW International designed offices that would fit in with the surrounding beach community. A "boardwalk" joins three buildings, creating a seaside aesthetic, plus areas for work and play gatherings. In addition to amenities like a juice bar and massage rooms, the designs include a panoramic Google maps screen, a rock climbing wall, and a technology-free mid-century modern meeting room. A sandpit along an exterior wall serves as a surfboard station to ensure employees enjoy the prime locale.
---
RIOS
Architects:
Mark Rios, FAIA, FASLA, and Bob Hale, FAIA
Awards:
AIA Los Angeles Design Merit Awards, AIA Los Angeles Next LA Honor Award, Association of Environmental Professionals Outstanding Award
Address:
3101 W Exposition Pl Los Angeles CA 90018
About RIOS
RIOS synthesizes the energy of Los Angeles with an aptitude for boundary-pushing multidisciplinary design to trounce challenges in residential, commercial, and civic architecture. Though the firm operates internationally, many of RIOS' award-winning works are located in Southern California. The Architect's Newspaper recognized the RIOS-designed Vrbo Headquarters with a Best of Design Award and they won an Architectural Foundation of Los Angeles Merit Award for the headquarters they designed for the California Endowment in Chinatown. The New York Times, The Los Angeles Times, Architectural Digest, and Architect Magazine have all raved about RIOS' unique and comprehensive designs.
Since 1985, RIOS has earned an international reputation for their collaborative and multi-disciplinary approach, establishing an award-winning tradition across an unprecedented range of design disciplines. The architects, planners, and designers at RIOS create and tell stories through buildings, places, and products that are thoughtful, effective, and beautiful. The firm also operates a product design studio, notNeutral, which takes an architectural approach to caféware, tabletop products, objets d'art, and everyday tools. A true Angeleno firm, they have worked on landmark projects such as Grand Park, recently honored with a 'Best of Millennium' award by the AIA LA, as well as The Hollywood Bowl, ROW DTLA, and Century Plaza Hotel, to name a few.
Featured Projects
RIOS transformed the former Howard Hughes Center into a collection of five multi-story office towers unified into a single campus, Playa District. The 33-acre site offers an impactful, efficient, and productive work environment for Southern California's professionals. The award-winning design, recognized by LABC Awards, Calibre Awards, and Westside Urban Forum, is inspired by the coastal Southern California lifestyle and the complex's story of place, adjacent to the untamed Ballona Wetlands. NBC/Universal Studios, the largest working production studio in the world, and a popular Los Angeles visitor destination, will change and expand significantly over the next 25 years. The urban infill development plans will maximize available space and seamlessly integrate with existing transit. Among the expanded facilities in RIOS' plans are new rehearsal halls, soundstages, film vaults, and production bungalows.
---
Shimoda Design Group
Architects:
Joey Shimoda, FAIA, FIIDA
Awards:
Contract Designer of the Year
Address:
837 Traction Ave Suite 101 Los Angeles CA 90013
About Shimoda Design Group
About ten designers work out of the downtown L.A. office of Shimoda Design Group to produce some of Los Angeles' most forward-thinking office designs. Led by Contract's 2013 Designer of the Year, Joey N. Shimoda, the company emulates an atelier work style under the motto "extra superfino," to seize every opportunity to innovate. Since 2000, Shimoda Design Group has amassed a workspace portfolio that includes multiple Steelcase locations, and a building for National Monocular Company.
Shimoda interned for a prolific Los Angeles architecture firm, Morphosis, before receiving his Architecture degree from California Polytechnic State University in 1988. While working with Thom Mayne's firm, he collaborated on two Progressive Design Award-winning designs. Shimoda established Shimoda Design Group on Valentine's Day in 2000, and their client list now includes Rolex, Viacom, Bloomberg, and Tishman Speyer.
Featured Projects
Toms Shoes founder, Blake Mycoskie, worked closely with Shimoda Design Group to create a remarkably expressive space for the social good-oriented fashion company. The Toms Headquarters in Santa Monica is a 70K square-foot warehouse and office space. The employee amenities are consistent with Toms brand statements, including a wellness center for free yoga and pilates classes, and pockets for socializing, like a coffee bar serving up Toms roast. Toms Headquarters definitively shrugs off a stuffy corporate aesthetic with a blue slide that winds down from loft space to the main floor. Shimoda Design Group also designed headquarters for J.J. Abrams' Bad Robot Productions. For the production house behind Lost, Alias, and Cloverfield, Shimoda reimagined a historic, 18K square-foot building in Santa Monica. Exposed brick, concrete, and steelwork make the office feel stripped back and open, but the structure conceals the many rooms dedicated to the production process. The building is purposely mislabeled as "The National Typewriter Company" to appease Abrams' penchant for misdirection and, of course, typewriters.
Wolcott Architecture Interiors (WAI)
Architects:
A.J. Wilder, AIA, LEED AP
Awards:
Los Angeles Business Journal Silver Award
Address:
3859 Cardiff Ave Culver City CA
About Wolcott Architecture Interiors (WAI)
Boutique firm Wolcott Architecture Interiors (WAI) has over 40 years of experience in commercial, entertainment, and retail design. The team of architects and project managers takes a focused approach to designing experiential spaces that make an impact. WAI often collaborates with its own lighting and branding design studios to create cohesive, expressive environments. Los Angeles Business Journal gave WAI a Silver Award for Demand Media's Santa Monica headquarters.
John Wolcott established his private firm in California in 1975. More than 40 years since its inception, WAI is now led by President A.J. Wilder, AIA, LEED AP. Throughout the two decades, Wilder has spent with WAI, the company has brought on major corporate clients Hasbro, Red Bull, True Religion, and more.
Featured Projects
Skilled in restoration and redevelopment, WAI is leading the redesign of the historic Pettebone building in downtown L.A. that will become 45,000 square feet of creative office space. The building officially became a Historic-Cultural Monument in 2016 and has a unique set of constraints for its modernization. Beverly Hills-based investment firm Kennedy Wilson wanted a workspace that honored traditional settings while serving as a contemporary and inspiring space for employees working out of their global headquarters. WAI changed the black glass exterior to transparent floor-to-ceiling glass walls and added backlit displays to the lobby to give passersby the impression of a retail storefront. On the first floor, the firm also relocated the front entryway to create a sightline to the interior courtyard, drawing visitors into the fold. A coffee bar wrapped in windows to the street solidifies the connection between employees and their surroundings. The firm received two awards for the design, a Los Angeles Business Council Architecture Award, and an IIDA Calibre Award.
---
Gensler
Architects:
M. Arthur Gensler Jr., FAIA, FIIDA, RIBA, and Douglas C. Gensler, AIA, NCARB
Awards:
Center for Active Design Excellence Award, AIA Institute Honor Award for Architecture, AIA Associate Award
Address:
500 S Figueroa St Los Angeles CA 90071
About Gensler
Internationally recognized companies Airbnb, Capital One, Hearst, and Goodyear are just a few of their prominent corporate campus clients. Interior Design's #1 corporate office architect, Gensler's work is frequently covered in national magazines, such as The Architect's Newspaper and Fast Company. ENR, Building Design+Construction, and Architectural Record have all named Gensler the #1 architecture firm in annual rankings.
Art and Drue Gensler, with partner James Follett, founded the firm in San Francisco in 1965. In 1976, Gensler put down roots in Los Angeles and relocated to downtown L.A. in 2011. When the firm outgrew its jewel-box space, they drew up plans to spread the 600 employees into an adjacent office tower and connect the structures with a pedestrian bridge. It's the first vertical campus in the area.
Featured Projects
In 2013, the video streaming giant, Hulu, moved into Gensler-designed headquarters in Santa Monica. Before designing the space, Gensler and Hulu partnered to implement research studies that would provide valuable data on how 500-plus employees would be utilizing the space. They determined that mental and physical breathing room were key to productivity in a modern workplace. The result is a 95K square-foot two-story campus that gives staff room to move freely, rather than being chained to a desk or cubicle. A large kitchen complete with a bar encourages recreation and socializing. An oversized staircase, nicknamed "The Well," makes for another hangout, and also serves as stadium seating for company-wide meetings. The headquarters wouldn't be complete without an arcade, and an alcove for watching big sports events. Celebrity photography shop, Smashbox Studios, worked with Gensler to design a new studio facility that would meet the needs of photographers and satisfy their celebrity subjects' sensibilities. The expanded lobby is styled like a club, with a mezzanine and VIP section. A full-service coffee bar caters to early arrivals, while a hidden speakeasy is available for late-night shoots. Each studio has its own set of luxury amenities; some even have an outdoor terrace for breathers while the photographer goes through selects.
---
HKS Inc.
HKS Inc. has ranked among ENR Top Design Firms in California and nationally, with over $65M in regional revenue. With projects in the commercial, government, hospitality, residential, health, and education markets, HKS has proved its extensive expertise in California and 23 other locations. The international design firm now consists of more than 1400 architects, interior designers, urban designers, scientists, artists, anthropologists, and more. In total, it has accumulated over 967 design awards, including honors from AIA and Los Angeles Business Council.
Now led by Regional Director Scott Hunter, FAIA, LEED AP,  the Los Angeles office has designed offices, entertainment hubs, stadiums, and healthcare facilities since opening in 1987. Building Design+Construction named it the third-largest architectural firm in the country.
Featured Projects
Along with designing a landmark stadium to herald the return of the LA Rams to the City of Angels, HKS created its headquarters in Agoura Hills. The 20,000-square foot-space features workstations with sit/stand desks and a Rams-branded broadcast studio that enables the team to create professional video productions on-site whenever inspiration strikes. A stadium VIP lounge inspired the designs of its large main meeting room and employee dining area while a central bar for company events is visible throughout the open floor area. Capital Brands, the company behind the popular Nutribullet, commissioned HKS to design its headquarters within an existing commercial office building on Los Angeles' legendary Wilshire Boulevard. Following the health brand's philosophy, well-being is prioritized as a central focus of the space. The one-stop-shop concept includes a demonstration kitchen, a multimedia editing room, and an engineering lab. Reconfigurable seating in a central garden lounge accommodates more than a hundred students for health and wellness classes or as a gathering area for employees and visitors.
---
HOK Architects
Architects:
Anton Foss, AIA, and Ernest Cirangle FAIA, LEED AP BD+C
Awards:
AIA Los Angeles Design Awards Citation, Los Angeles Business Council Architectural Awards, IIDA Southern California Calibre Awards
Address:
530 Jefferson Boulevard Culver City CA 90232
About HOK Architects
Los Angeles Business Journal has consistently ranked HOK Architects among the top design firms in Los Angeles, and in 2016 the firm landed at #12 on the ENR California Top Design Firms 2016. The global company has designed award-winning Los Angeles offices for DirecTV, Pritzker Group, and Beachbody, contributing to annual revenue topping $400M, and the #1 spot on the ENR Top Green Design Firms list in the Commercial Office sector.
In 1955, George Hellmuth, Gyo Obata, and George Kassabaum formed a St. Louis architecture firm with 26 employees. Hellmuth, Obata & Kassabaum, Inc. or HOK, Inc, has since grown to a global team of 1,700 offering architecture design, engineering, and planning out of offices on three continents. Since 1983, the Los Angeles office has designed LEED Platinum Anaheim Regional Transportation Intermodal Center (ARTIC), and renovated the Anaheim Convention Center, two of the most recognizable Southern California projects.
Featured Projects
The HOK Architects-designed Avery Dennison headquarters is a modern upgrade for the 80-year-old labeling company. The 1980s Glendale building had a traditional layout, with offices on the perimeter and walled-off cubicles that stunted collaboration. The contemporary update traded the dated floor plan for an office-free open environment. On both floors of Avery Dennison's 45,000 square-foot spread, the emphasis is on collective spaces, like an amphitheater and a cafe. Glass-walled conference rooms and informal lounges encourage synergy between team members. The Mindshare Office serves eight creative firms' distinct needs. The companies share 41,500 square feet over two and a half floors of an office building in Playa Vista, arranged so that each firm has its own "neighborhood." Staff from each shop come together in communal spaces, like outdoor balconies, production rooms, and meeting areas. The "industrial beach" styling visually binds personalized workspaces.
---
LPA Inc.
Architects:
Robert Kupper, AIA, LEED AP, and Wendy Rogers, FAIA, LEED AP BD+C
Awards:
AIA California Council Award of Honor
Address:
5161 California Ave Suite 100 Irvine CA 92617
About LPA Inc
One of the top architecture firms in the region, according to ENR California, LPA, Inc. pulled in over $42M of design revenue in 2018. Their team of more than 350 architects, engineers, and interior designers have earned over 100 design awards. Among their notable Southern California projects are Anaheim Plaza, a $50M terminal at John Wayne airport, and the AIA OC Cote Award-winning Los Angeles Valley College Monarch Center. LPA, Inc's corporate architecture portfolio includes Irvine headquarters for L.A.-born video game giant Blizzard Entertainment, and multi-firm workspaces The Vine OC and The Press.
Leason Pomeroy established LPA, Inc. in Orange County in 1965. The firm took its first AIA design award in 1971 for 44 Plaza Square. The Irvine office opened in 1989, one year before current CEO Robert Kupper assumed his post. Originally focused entirely on architectural design, the firm added engineering in 2007. The firm's designs for the Michelle Obama Branch Library earned a 2017 AIACC Award of Honor.
Featured Projects
Mazda commissioned LPA Inc. to design its Northern America headquarters to embody the companywide transformation of its brand, products, and sales force. The Japanese carmaker's heritage is reflected on the modern abstractions of traditional Japanese design principles. From the showroom to the lobbies of elevators, shadow patterns or 'Kage' are projected on the walls to create a distinct and branded expression for each floor. The company occupies five floors in a 17-story monolithic glass tower and consists of two main hubs including open collaborative environments, break areas, and an assortment of focus, huddle, and meeting rooms. The design is a PCBC Gold Nugget Awardee and is LEED Gold Certified. Volcom Costa Mesa headquarters is organized around an internal street that creates a flow between individual workspaces and communal zones. Topsy turvy gallery walls and distorted mirrors bring out the funky side of the skate and surf apparel company. Polished concrete floors and matte black ceilings lend the corporate environment a gritty street vibe.
---
Rapt Studio
Architects:
David Galullo
Address:
8970 Washington Blvd Culver City CA 90232
About Rapt Studio
Rapt Studio is an award-winning design and strategy studio that helps leading brands navigate the complex challenges of this ever-changing world. With locations in San Francisco, Los Angeles, and New York — and with clients spanning the globe — Rapt brings fresh thinking and a highly customized approach to each and every partnership. Their interdisciplinary teams blend architecture, interior design, graphic design, branding, and strategic thinking into holistic solutions that further their client's missions.
Their agile approach earned them the distinction of being named one of Fast Company's Most Innovative Companies.
Since its founding in 2011, Rapt has gained international acclaim for its work with brands such as Google, Twitter, Dropbox, Vans, HBO, LinkedIn, Turner, Adobe, goop, PayPal, and GE. A thought leader in the creative field, the studio has been featured in The New York Times, The Wall Street Journal, Architectural Digest, Interior Design Magazine, Fast Company, Forbes, and many more.
Featured Projects
Rapt Studio was responsible for creating the headquarters of goop, a modern lifestyle brand and wellness resource. Established by actress Gwyneth Paltrow, goop takes a multifaceted approach to health, travel, and style by creating and recommending products while producing thoughtful content on living holistically. Rapt Studio designed goop's HQ by synthesizing the company's essence and clean, tasteful style into a well-curated space. Numerous spaces around the office are designed to cultivate expansive thinking and creative development. These include a product room and lab for wellness innovation, a test kitchen to experiment with recipes, a podcast recording studio, photo and video studios, and a fashion and design workroom for exploring styles and designing new collections for G. Label.
In nearby Marina Del Rey, Rapt transformed a mid-century complex into an airy tech hub for The Bradmore Group. Dubbed the MDR Truss Campus, this cohesive multi-tenant complex establishes office space that caters to young, up-and-coming creatives. It currently houses digital advertising company ZEFR and Bouqs Co., an online farm-to-table flower delivery service. Rapt focused on the interplay of textures and layers here: the original structures were stripped back to their bare finishes and left exposed while perforated surfaces add extra texture. Masonry walls were repainted to unify the color palette, and clean metal finishes polish the look. Solid walls were opened up with windows and skylights, and a continuous path framed by plants winds its way from one end of the campus to the other.
Studios Architecture
Architects:
Thomas Yee, AIA, LEED AP, and Melissa Duffy, AIA, LEED AP
Awards:
Gold Nugget Merit Award, Los Angeles Business Council Community Impact Award, Los Angeles Business Council Architectural Award
Address:
1100 Glendon Ave Suite 1753 Los Angeles CA 90024
About Studios Architecture
Studios Architecture worked with big-name Los Angeles clients from the outset, designing for The Walt Disney Company, Dreamworks, Warner Bros., and CNN. More than 30 years later, the firm's portfolio has expanded to designing workspaces for financial service companies and law firms. With contributions from over 300 staff members, Studios Architecture's corporate campus designs have earned acclaim from Gold Nugget, multiple AIA regional chapters, the Chicago Athenaeum, and IIDA. Architectural Record, Variety.com, and more have explored the firm's work in detail.
Chairman of the Board Thomas Yee joined Studios Architecture in 1985, the year the company opened for business. Now an international practice, Studios Architecture's regional offices are led by 20 principals, though they emphasize lateral collaboration throughout the design process.
Featured Projects
Perennial fashion brand Guess?, Inc. tapped Studios Architecture to design a creative headquarters for three design teams. The 95,000 square-foot office was built out in a Guess?-owned building in L.A's garment district. Visitors are greeted at a desk formed from a large-scale lacquer "G". From an elevated conference rooms, executives can peer into the multi-use and office spaces. In addition, Studios made room for a 750-seat space for screenings and runway shows. The expansive design won an Interior Design Award from IIDA National. Studios Architecture worked with DLR Group to design a new five-story building for the Nickelodeon Animation Studios campus in Burbank. At 110,000 square feet, there is ample room to foster conversation and creativity between animators. Each floor has a working gallery wall where artists can hang and discuss works in progress. Free walls are also functional surfaces with floor-to-ceiling chalkboards and magnetic whiteboards for doodles and brainstorming. An 88-seat screening room and three voice-over rooms add production functionality. An arcade and a music room provide downtime distractions that could spark a new idea. The new designs also included an A/V-ready outdoor space for company gatherings and art showings. The project is certified LEED Gold.
ZGF Architects
About ZGF Architects
ZGF Architects is an architecture, design, and planning firm with a diverse portfolio that reaches across industries, including healthcare and research facilities, academic buildings, mixed-use developments, corporate campuses, museums, transportation facilities, and eco-districts. Established in 1942 in Portland by Norm Zimmer FAIA, Brooks Gunsul FAIA, and Robert Frasca FAIA, the practice now has over 700 professionals working across six offices in the US and Canada.
The firm has ranked among Building Design+Construction's Top 300 Firms in the US as well as being named the #1 architectural firm in the country by Architect in 2016. It is also a top design firm annually of ENR California and holds the 2018 Design Firm of the Year award. It has built offices for Microsoft, Nintendo, and Amazon.
Featured Projects
Google partnered with ZGF Architects to transform the landmark Spruce Goose Hangar in Playa Vista into a 450k-square-foot four-level 'building within a building' that houses offices, event spaces, and employee amenities. The 750-foot-long historic wooden structure was first built by Howard Hughes in 1943. The firm extensively restored the wooden frame and designed the interior to sit on either side of the hangar's central spine. The varied shaping of each floor allows daylight to penetrate every level and maintains clear sightlines spanning the full length of the building, putting the magnitude and workmanship of the historic structure on display. A contemporary twist in the interiors features airborne-inspired names and aesthetic themes. The project won an Interior Architecture Award from the AIA, Silver Award for Best Office Project from the Los Angeles Business Journal, a Calibre Design Award from the IIDA Southern California, and an International Architecture Award from the Chicago Athenaeum. Another award-winning office design of ZGF Architects is the J. Craig Venter Institute in La Jolla. The LEED Platinum® facility has been designed with a net-zero energy footprint and is one of the greenest buildings in the country. The 44,607-square-foot building consists of laboratory and office / dry research space above a partially below-grade parking structure and more than 26,000 square feet of the photovoltaic surface. It is an AIA COTE Top Ten Awardee has a Green Good Design title front he
The Chicago Athenaeum Museum / European Centre for Architecture Art Design and Urban Studies.