Classifying the Los Angeles architectural scene into one category is impossible. Famous architects like Frank Lloyd Wright and Frank Gehry have made a mark in the city. Los Angeles's neighborhoods are a time capsule of the city's evolving style. From traditional Victorian bungalows to Avant-Garde residences, the rich and famous homeowners of LA are willing to spend millions on the home of their dreams.
A lot of creative residential architects are based in LA because many locals are willing to take creative risks and have to budge to execute these complex designs. Some of the most expensive houses in the country are found in the city. In fact, a Bel-Air mega-mansion is listed at a whopping $250 million.
Narrowing down the best architects in LA will be challenging, especially for a busy homeowner. Luckily, this list has the 15 best architects who have designed some of the best residences in the city. All of the architects who service LA were taken into consideration but these chosen firms were critiqued based on portfolio, awards won, and publications that have featured its works.
---
SPF:architects
8609 Washington Blvd, Los Angeles, CA 9023
Founded in 1988, SPF: architects is a Los Angeles-based architecture practice that has provided exceptional designs in Los Angeles, Beverly Hills, Pacific Palisades, West Hollywood, Studio City, Bel Air, Somis, and Highland. With 32 years in the business, the firm has remained dedicated to delivering remarkable projects that demand a high level of design sensitivity, technical knowledge, and a hands-on, personalized approach. The firm is backed by an award-winning design team that brings years of combined experience in all phases of project development. With its impressive portfolio and a lengthy list of satisfied clients, the firm has consistently showcased its ability to manage and deliver large, complex projects on schedule and within budget.
One of the firm's notable projects is the Orum Residence, located in Los Angeles. Completed in 2018, this project features a three-floor modern residence that spans 18,800 square feet. The idea was to build a property that could blend into its surroundings and take advantage of the breathtaking views. This modern residence features clean lines, a monochromatic color scheme, and floor-to-ceiling windows that bring in lots of natural sunlight.
---
Ehrlich Yanai Rhee Chaney Architects
10865 Washington Blvd, Culver City, CA 90232
Ehrlich Yanai Rhee Chaney Architects—which started off as Ehrlich Architects in 1979—is an architect and design firm with offices in Los Angeles and San Francisco. The firm is known for its distinctive design, which builds on the traditions of California modernism by combining new technologies with cultural and environmental sensitivity. Regardless of the project's size, scope, or complexity, the firm consistently brings superior quality, impeccable professionalism, and outstanding customer service as it delivers high-quality projects that guarantee satisfaction and exceed expectations. The firm takes an open-minded, collaborative approach to design, ensuring that each project is tailored to fit the client's needs. As a result, the firm has earned recognition through several awards, including eight National American Institute of Architects (AIA) awards, the AIA National Firm Award in 2015, and the American Institute of Architects, California Council's 2003 Firm of the Year.
The Wolfe Residence is a perfect example of the firm's superior quality and professionalism. Located on a 7,250 square-foot urban infill lot, this 3,400 square-foot rustic residence was built for an African art dealer and collector. The environmentally friendly home displays a vast collection of African art and furniture. Its interior features a safari feel and the main living space includes 13-foot-high white walls that display a diverse collection of African antiquities from various places.
---
Montalba Architects
2525 Michigan Ave, Building T4, Santa Monica, CA 90404
With 18 years of extensive experience, Montalba Architects is a multi-award-winning firm that provides architecture and urban design services throughout the United States, Europe, and the Middle East. Since its inception in 2004, the firm has specialized in delivering exceptional design solutions that are contextual, creative, and imaginative while keeping the client's needs, site considerations, and cultural and economic surroundings in mind. The firm's design-oriented architectural practice and integrated, collaborative approach are highlighted by the depth of its work, its creative perspective, and its impressive teamwork. The firm has established an impressive portfolio that includes diverse projects and services: commercial office interiors, residential houses, retail stores, mixed-use buildings, and master planning.
For the featured project, the firm provided architectural and design services to renovate Westridge House, a 5,400 square-foot residence in Los Angeles. This major foundation-up renovation and second-story addition brings natural light into the interior and creates indoor-outdoor experiences throughout the space. The floor-to-ceiling windows mix with natural ipe decks and rooftop rock gardens to enhance view corridors and usable rooms. It also features a continuous great room created by the raised ceiling and a unique two-sided stone fireplace.
---
Belzberg Architects
2740 Main St, Santa Monica, CA 90405
Based in Santa Monica, Belzberg Architects is an architecture and interior design firm with 25 years of extensive experience. Since its inception in 1997, the firm has earned massive recognition for its superior quality and outstanding projects, including over 50 design honors and features in national publications such as Architectural Record, Interior Design Magazine, and The New York Times. As a result, the firm has solidified its reputation as a leading contractor by using creative and cost-efficient solutions to create attractive and functional architecture and interiors. Large institutions, commercial enterprises, and private entities are among its clientele, and its range of partners continues to expand.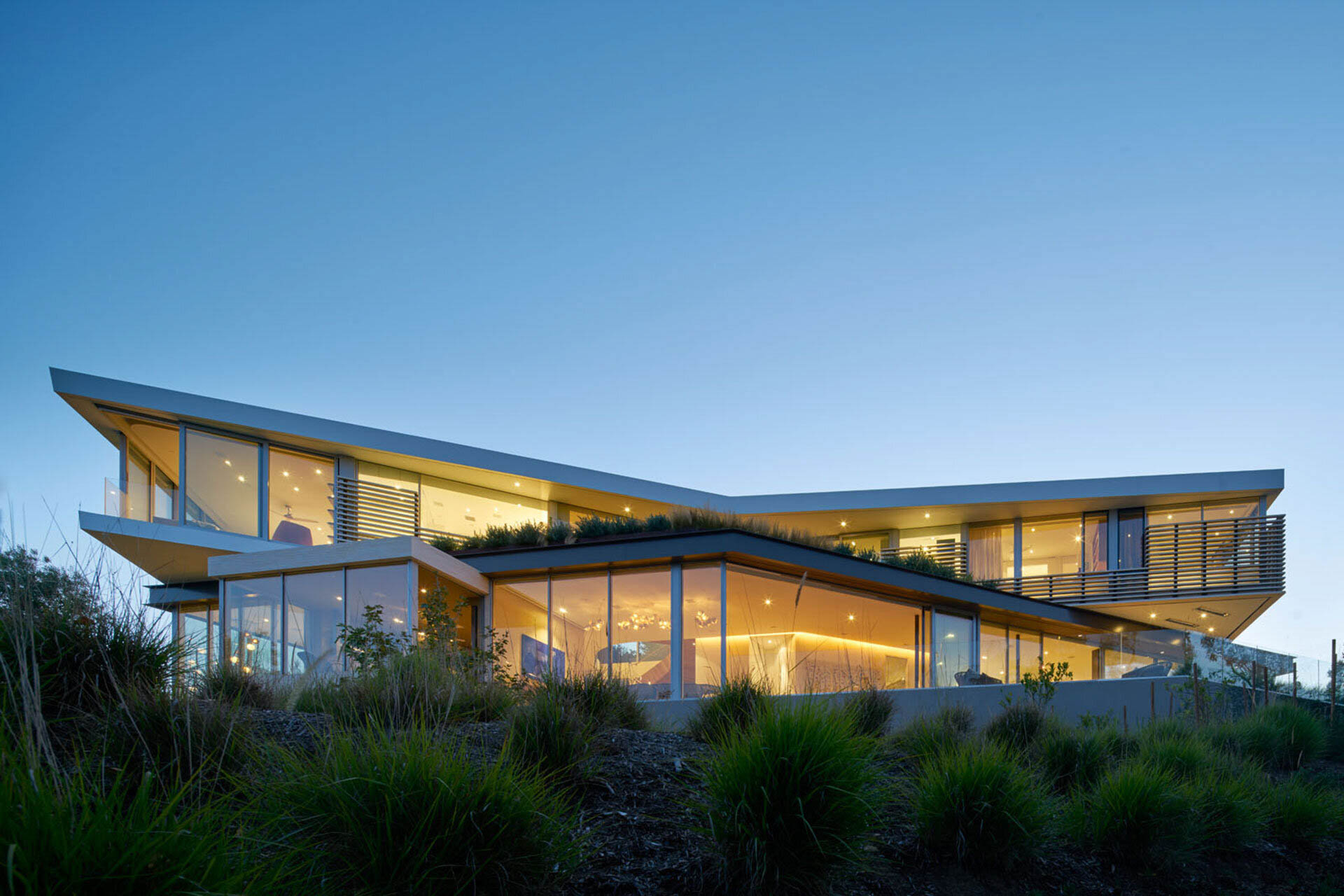 The Tree Top Residence honors the site's complicated landscape by effortlessly blending in with its surroundings. The long and narrow layout of the three-level house follows a natural ridgeline, duplicating and inverting the angles of the site's terrain. An eccentrically helical stair serves as the central organizing element upon entering the house on the vertical plane. It serves as a threshold into the open plan on the ground floor while separating the master suite and children's quarters on the upper floor and providing a light well to the basement.
---
Tighe Architecture
5747 Venice Blvd, Los Angeles, CA 90019
Tighe Architecture is an architecture and design firm situated in Los Angeles that has been in the industry since 2001. Whether large or small, public or private, high-end or low-income, the firm is dedicated to delivering exceptional projects that meet clients' demands and create a long-lasting effect. It is backed by highly-skilled professionals who deliver a meticulous, hands-on, and collaborative approach to each project, ensuring a smooth and seamless design process. Its dedication to excellence and customer services has resulted in an impressive portfolio that spans the spectrum of mixed-use, commercial, multifamily, interiors, and residential projects. The firm has gained massive recognition through many design awards, features, and plenty of positive feedback from satisfied clients.
This featured project is the Tigertail Residences, a 3,200 square-foot home part of a postwar development of modest mid-century residences in Brentwood's Crestwood Hills. It consists of a new two-floor building seamlessly blended with the old home. The design incorporates practical topographic elements and more intricate three-dimensional form manipulations that incorporate the area's landscape and surroundings.
---
Michael Maltzan Architecture
2801 Hyperion Ave, Studio 107, Los Angeles, CA 90027
Michael Maltzan Architecture is an architecture and design firm dedicated to providing creative design techniques, cost-efficient solutions, and outstanding customer services across Los Angeles and the surrounding area. Founded in 1995, the firm is dedicated to designing and constructing projects tailored to fit clients' unique demands. Its integrated and collaborative approach has resulted in long-lasting relationships with stakeholders and ensured a smooth, seamless, and optimized processes. The firm was established by Michael Maltzan, an AIA Fellow who has won several awards, including the American Academy of Arts and Letters Architecture Award. Under his leadership, the firm has consistently delivered high-quality projects on schedule and within budget, earning clients' trust and exceeding their expectations.
The Pittman Dowell House is situated on 6 acres of land initially intended for a hillside neighborhood. The firm helped with renovations to design a heptagonal figure with intersecting diagonal slices running through it. These perspectival manipulations start at the room level, shrinking and expanding space through a sequence of non-parallel walls that never completely encompass a room's space. The new space features a sophisticated and modern design with clean and geometric lines, a stark white color scheme, and glass enclosures.
---
Landry Design Group
1818 S Sepulveda Blvd, Los Angeles, CA 90025
Richard Landry founded the award-winning architecture firm Landry Design Group, Inc. in 1987 to provide architecture, planning, and design services. The firm specializes in luxury, high-end residential architecture, completing exceptional projects for diverse clients in the United States, Canada, China, Japan, Singapore, Malaysia, Indonesia, The Bahamas, Jamaica, United Arab Emirates, Bahrain, India, United Kingdom, Switzerland, France, Greece, and Russia. The firm brings years of combined experience to the table, and that track record is evident throughout its impressive portfolio that ranges from classical estates to rural villas and cutting-edge contemporary structures. The firm is committed to delivering superior quality and keen attention to detail to ensure exceptional projects are delivered to its clients. Over the years, the firm has earned a long list of satisfied clients that serve as a testament to its dedication to customer service.
One of the firm's notable projects includes this featured Los Angeles Residence. The firm focuses on delivering a sophisticated, timeless, and elegant design by incorporating classic and traditional elements into the space. The exterior and interior design features clean white walls combined with rustic accents, including dark roofing and warm hardwood floors.
---
KAA Design
4201 Redwood Ave, Los Angeles, CA 90066
Partners Grant C. Kirkpatrick and Duan H.M. Tran founded KAA Design, an architectural and design firm based in Los Angeles. With 34 years in the business, the firm has established its reputation as an award-winning, cutting-edge residential design firm and it has an impressive portfolio of diverse projects. With a brilliant team of experienced multidisciplinary designers, the firm provides a unique level of specialization to design-forward operations to ensure each client's ideas are fully comprehended and transformed into a project that meets their needs. The firm is dedicated to delivering the successful project outcomes that come out of a close and collaborative design process with each discerning client. Over the years, the firm has won several awards for its quality designs, including the AIA South Bay Design Awards – 2017 Merit Award.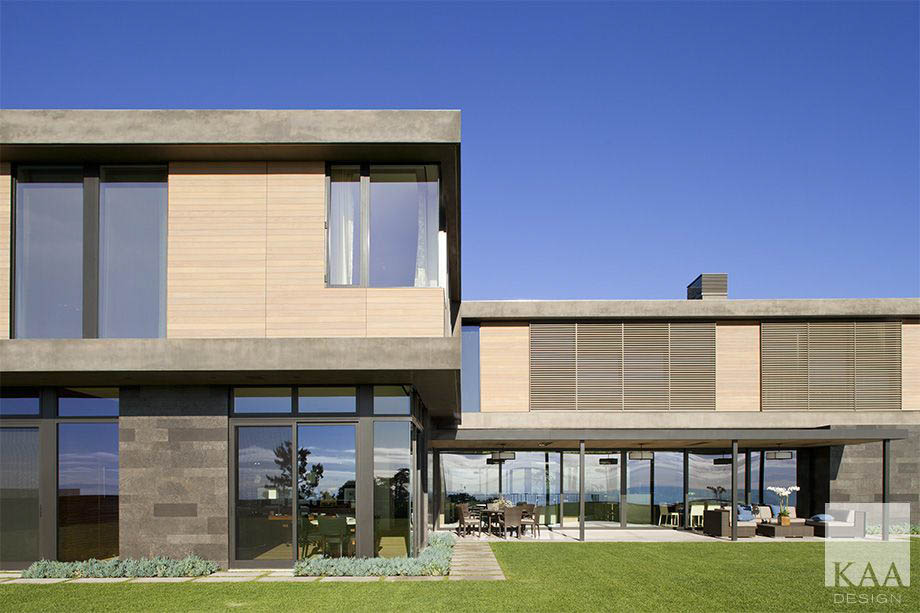 One of the firm's notable projects is the Balance Hill Residence, located on a magnificent hillside terrace high above the Los Angeles basin. The project features a dramatic view of the arrival sequence up a curving board-formed concrete wall to the home's front door. Above the oval motor court is a cantilevered living and dining pavilion. Glass, white plaster, wood, and steel are used sparingly in this modern and sophisticated design and frame the panoramic scenery from the cantilevered living and dining areas.
---
RIOS
3101 West Exposition Pl, Los Angeles, CA 90018
RIOS began as a Los Angeles, California-based multidisciplinary design firm in 1985. The firm's focus on constant communication and close collaboration has resulted in integrated and comprehensive solutions to various design problems, ensuring that each project clearly reflects the client's vision, personality, lifestyle, and preferences. With nearly four decades of experience, the firm provides a single-source solution for its clients through its collective expertise in architectural, landscape architecture, urban planning, graphic, interior, display, and product design. Municipal, corporate, retail, hospitality, institutional, and residential commissions are some of the firm's many projects.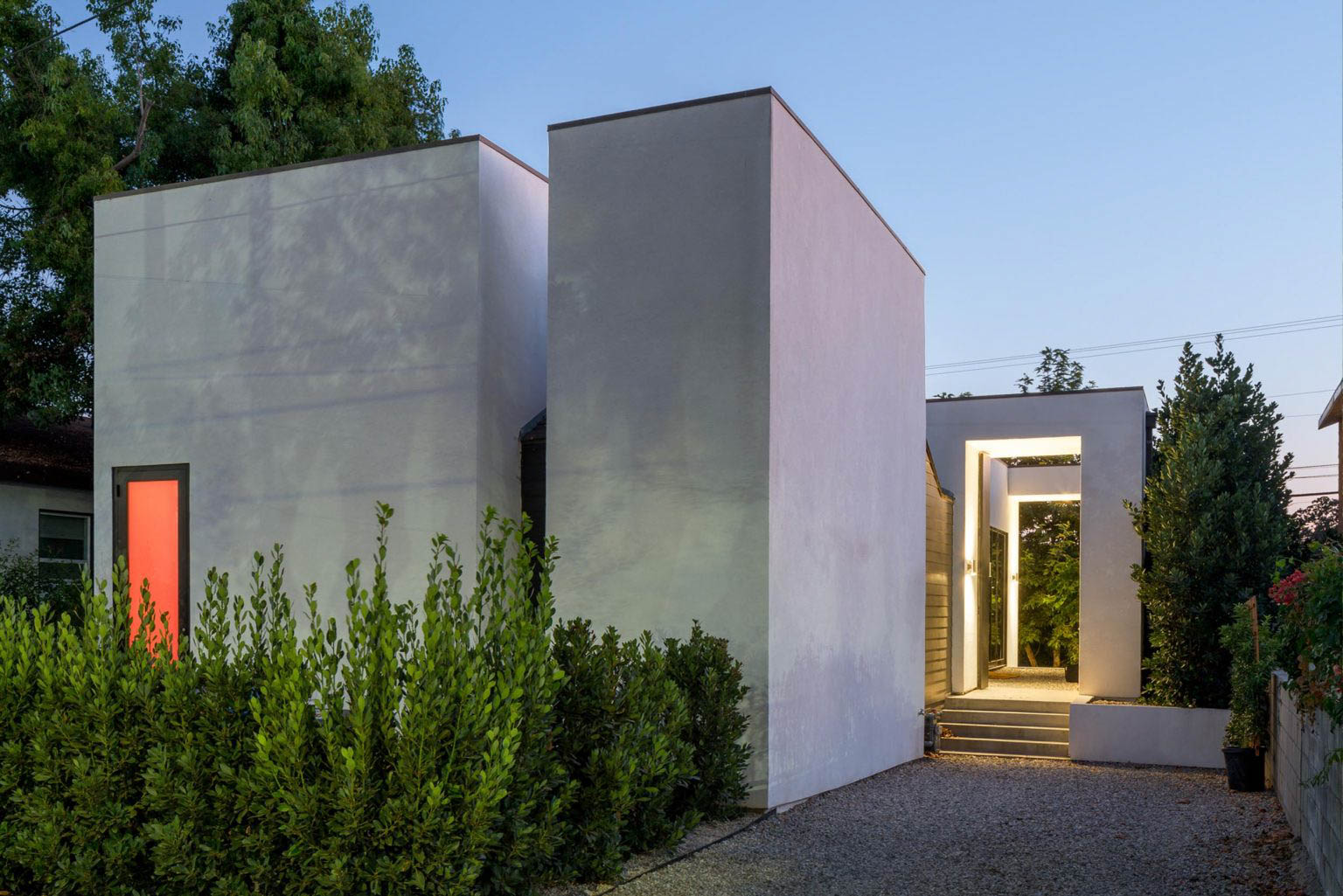 The modern bungalow's architecture reverses the conventional bungalow, with the living areas opening onto the backyard and the private rooms facing the street, optimizing Southern California living. The owners of this home intended to create an interior environment that would provide a welcome reprieve from Los Angeles' fast-paced, urban lifestyle. The site is on the outskirts of Atwater, next to several adaptive reuse warehouses and train tracks, a great choice to reflect the city's metropolitan nature.
---
Assembledge+
6255 W Sunset Blvd, Suite 920, Los Angeles, CA 90028
Assembledge+ is a full-service architecture business specializing in unique residential and commercial designs from its studio in Los Angeles. The firm was founded by David Thompson. Under his leadership, the firm's architectural approach is anchored in contemporary modern design, notably in the tradition and climate of Southern California. It is dedicated to delivering design solutions that are conscious of the surroundings and support and nourish the people who use them. The firm has won many awards for its impressive work, including recognition from AIA|LA, the Los Angeles Business Council Housing Honor Award, and the Southern California Development Forum Award. The firm has also been featured in various national and international publications, including Architectural Digest and the New York Times.
The Laurel Hills Residence in Studio City, California, highlights the firm's quality. The single-story property, which consists of three pavilions connected by a network of glass passageways, aims to create a residential refuge in Los Angeles. The enormous charcoal-colored board, batten extra, and cement board cladding of the guest house/garage pavilion form a line that carves and unites the two more significant volumes of the living and sleeping pavilions. A large overhang reduces solar heat gain and provides protection from the sun.
---
Clive Wilkinson Architects
6116 Washington Blvd, Culver City, CA 90232
Since its inception in 1991, Clive Wilkinson Architects has solidified its reputation as a renowned architecture and design firm with its single-source solutions that consistently result in exceptional projects. The firm delivers forward-thinking designs to imagine and develop new structures that support, improve, and enhance each client's lifestyle. Under the leadership of President and Design Director Clive Wilkinson, the firm has an impressive portfolio of over 5 million square feet of workplace, educational, institutional, and residential buildings found across the planet. Its dedication to superior quality, impeccable professionalism, and outstanding customer service has resulted in over 150 national and international design honors, including the Cooper Hewitt, Smithsonian Design Museum's National Design Award for Excellence in Interior Design in 2012.
In 2019, the firm provided base-building and interior design services for this West Los Angeles Residence, covering 3,718 square feet. Five bedrooms and five bathrooms, a den, and a small gym are located on the lower floors. The infinity pool patio and garden, which stretches down the hill, are accessible from the children's rooms. The living attic, pool deck, and garden terrace are three different social spaces on the high site. Both children and adults have their own domains and can come together for social, recreational, and mealtime purposes.
---
Lehrer Architects
2140 Hyperion Ave, Silverlake, Los Angeles, CA 90027
Lehrer Architects was formed in 1985 by Michael B. Lehrer in his hometown of Los Feliz, California. With over 37 years in the business, the firm is backed by a professional staff with considerable expertise in designing, managing, and collaborating with community and cultural organizations on projects throughout Los Angeles. Urban design and residential, commercial, institutional, and landscaping services are among the firm's offerings. The firm's design philosophy is based on a strong love and respect for the community and a commitment to its advancement. Whether the projects are commercial, residential, institutional, public, or private, the firm's superior quality and professionalism are showcased through its impressive portfolio of diverse projects that consistently exceed expectations.
The featured project won the 1998 LA Beautification Award from the Los Angeles Business Council. The Debont Residence was formerly a simple, typical Southern California ranch-style home on a Mandeville Canyon hilltop plateau. For the past 15 years, the architect and the owners have been tinkering with the interior and exterior aspects, adding, deleting, adjusting, and reshaping them. Today, the home is a landscape object with a 360-degree landscape engagement and viewshed. Every move makes the house and garden more accessible to one another and provides access to the sky and the terrain for natural light, views, and seamless indoor-outdoor living.
---
Griffin Enright Architects
12468 W Washington Blvd, Los Angeles, CA 90066
Margaret Griffin and John Enright founded Griffin Enright Architects in 2000 to combine their interests in delivering inventive design solutions and flexibility in creating unique spaces that meet each client's unique demands. The firm has a diverse portfolio of projects ranging from large-scale commercial and residential projects to furniture design and gallery interiors in both regional and international locations. Through their expertise in design and construction techniques, the firm takes a focused, imaginative, and strategic thinking approach to each project by fully understanding the client's vision and transforming it into an actual space tailored to fit their personality and lifestyle. As a result, the firm has won several awards that serve as a testament to its high-quality services, including the 2021 International Residential Architecture Award and the 2021 Global Future Design Award by Architecture Press Release, 2nd place.
The Birch Residence—a 3,600 square foot two-floor residence on a flat, semi-urban site in Los Angeles—is one of the firm's most notable projects. The house is small, but it is built to give the impression of more space. It is divided into two sections by a double-story core component that creates extended views and maximizes sunshine from the skylight above. The vast atmosphere of this property is enhanced by an elegant palette of contrasting materials. A curved pool centers the house and gives the backyard a courtyard effect.
---
Corsini Stark Architects
3630 Tyburn St, Los Angeles, CA 90065
Rick Corsini and Anthony Stark have worked together since 1997. They founded Corsini Stark Architects as a premier architecture and design firm to serve Greater Los Angeles and its nearby areas. The firm has 25 years of experience in master planning, retail and restaurant design, institutional and multifamily housing, higher education buildings, historic preservation/adaptive reuse, and urban infill mixed-use development. Whether it is a campus master plan, a new building, or a commercial interior, the firm is dedicated to finding the "Big Idea" that can guarantee satisfaction and exceed expectations. It continuously strives for excellence, which the firm has proven through its solid track record of high-quality projects delivered on schedule and within budget. The Los Angeles Business Council, the Southern California Development Forum, and the AIA Los Angeles Chapter have all given the business design accolades.
One of the firm's significant works is the Callow Residence in Altadena, California. The clients requested a house with a modest street scale, a fluid interplay between indoor and outside space, privacy from adjacent neighbors, and a unique design conceptually located on the Los Angeles modernist trajectory. The firm divided the site into functional bands of varying widths running north-south to shape space and direct views and movement from the site and throughout the house.
---
Edward Ogosta Architecture
8800 Venice Blvd, Suite 312, Los Angeles, CA 90034
Edward Ogosta Architecture is a Los Angeles-based award-winning firm that focuses on residential and commercial projects. Founded in 2011, the firm has proven its ability to meet client expectations through its many design awards, including the 2020 Architizer A+ Award Jury Winner and the 2020 Architect Magazine Residential Architect Design Award. The firm's methodology balances the pragmatics of program, money, site, construction, and craft with rigorous conceptual analysis for each design problem. It closely collaborates with its clients to ensure smooth and seamless project delivery. With its impressive portfolio, the firm has also gained extensive coverage in various international publications, including Dwell, Architectural Record, Architect, and Residential Architect.
The Outlook House in Sherman Oaks, California, started off as a shabby, ungainly 1970s hillside house with amazing views but in desperate need of a makeover. The firm reversed the original house's internal focus into an immersive experience of gazing outwards to landscape and sky by carefully removing walls, opening up windows and skylights, and re-orienting room layouts. The design treatment was guided by light and transparency: the interior is bathed in natural light, white oak slats provide a sense of layering between rooms, the fireplace hangs delicately from the ceiling, and the material palette is natural.
---
EZ Plans
20720 Ventura Blvd, Suite 220 Woodland Hills, CA 91364
EZ Plans was born at the intersection of business and architecture. Its co-founders, entrepreneurs Ray and Lesley Joelson, envisioned service-driven, customer-focused, high-quality design made accessible to the general public through a team of talented, creative architects. EZ Plans' portfolio spans humble garage conversions and accessory dwelling units (ADUs) to a 12,000-square-foot multi-million dollar Brentwood home on San Vicente Boulevard for a high-profile client. CEO Ray Joelson has helped clients at all income levels looking for value as well as creativity. The firm is transparent about its costing, with a pricing configurator and proposal generator on its website, which you can visit here.
Its driving creative force is principal architect Michael Song, whose career spans more than 25 years. His work has been recognized in prestigious publications including International Houses Atlas, Dwell Magazine, and Desert Living. Michael is passionate about educating the next generation of architects and is Chairman of the Department of Architecture at Los Angeles Harbor College.
Song transformed a 1920's dilapidated Spanish-style bungalow sandwiched between apartment buildings in Santa Monica into a mid-century modern contemporary private urban oasis. The owners strictly required single-story indoor/outdoor living. Their property has a steep down slope but they wished to access their pool and outdoor kitchen on the same level as their living space. This was a tall order involving Coastal Commission approval and strict planning and building code requirements from the City of Santa Monica. Song and his team of engineers designed an expansive above-ground deck to encapsulate an elevated swimming pool with parking below.