For decades, Los Angeles has been a leader in innovative architecture. From Richard Meier's geometric designs to the organic architecture of Frank Gehry, the City of Angels has been one step ahead in purposeful architecture and construction. In today's era, the city boasts of sustainable architecture — the art of designing and constructing buildings to minimize their negative environmental impact by efficiency and moderation in the use of materials, energy, and development space. For the past 40 years, the green design movement in Los Angeles has grown significantly, with more and more architects accommodating the latest green technologies and methods in their commercial and residential plans.
This list features the top green architects serving Los Angeles. These architects have designed some of the best models of sustainable living, as seen in their residential portfolios. They are also capable of incorporating these methods in other areas like adaptive reuse lofts, eco-friendly build-outs, and green renovations. We have looked at hundreds of architects and selected the best based on their green credentials, sustainable custom homes, residential renovations, versatility in project types, work history, principals, awards, and press recognition.
---
ORA
923 East 3rd St. Suite #105, Los Angeles, CA 90013
Award-winning architecture firm ORA provides creative architecture and interior design with a focus on contemporary styles and sustainable practices. Since 2013, it has taken on various types of projects, from private residences and multifamily homes to commercial interiors like restaurants and retail spaces. These are often found in the Los Angeles area, from Santa Monica to Manhattan Beach.
The firm's hands-on approach and collaborative exchange of ideas between team members produce design excellence recognized by the American Institute of Architects (AIA). The firm has Small Local Business (SLB) by the City of Los Angeles, a Women Business Enterprise (WBE), and a City of Los Angeles Green Business. The firm is headed by Oonagh Ryan, an Irish-born architect who studied architecture at the Technological University of Dublin and Trinity College. She is an AIA member and an International Interior Design Association Member.
The firm has constructed custom homes and renovations that use green techniques. This award-winning addition is called the Art Barn. Constructed for the Bowen Residence in Manhattan Beach, the 750-square-foot contemporary structure was conceived as a rustic yet modern 'barn' for the owner's growing art collection. It was also designed from an environmentally conscious perspective. Deepened overhangs prevent excessive indoor heating while smart clerestory windows have sensors that detect when indoor temperature rise and automatically open to ventilate the space. It has earned a 2017 AIA Los Angeles Residential Architecture Award (Merit) and a 2019 AIA Southbay Architecture Award (Merit).
---
Tracy A. Stone Architect
2041 Blake Ave., Los Angeles, CA 90039
Tracy Stone opened her firm in 1991 after working as a project architect for renowned California architect Ray Kappe. Her emphasis on California modern style means bringing in natural materials that come together to form durable and sustainable structures. Her designs often maximize the use of natural light and warm textures.
The Tracy A. Stone Architect's custom homes are found all over California, from hilltop residences to homes in the desert. One of the firm's notable projects is the Desert House. The auspicious home is a play on thermal mass and well-designed overhangs to create an energy-efficient home in the hot California desert. It has winter and summer bedrooms that effectively respond to the heat and light impacts of the desert climate.
---
Kovac Design Studio
11828 West Pico Blvd., Los Angeles, CA 90064
Established in 1988, Kovac Design Studio's three decades in the business have honed its expertise in creating highly-personalized custom homes throughout Los Angeles and Beverly Hills. Founder Michael Kovac heads this multidisciplinary firm. In his youth, he frequently traveled to Japan and Asia. These travels fueled and influenced his designs along with his learnings and experiences under noted modernist Jerrold Lomax. He is also passionate about sustainable design and construction and nature as a whole. He designed his own home, Sycamore House, which was the firm's first LEED Platinum project.
The firm's bespoke homes have been featured in Contemporist, Architect Magazine, Living Spaces, and HomeDSGN. One such project is the Split House, a unique home built with green design in mind. The structure's hull-like volumes on the second floor are separate but flow together. The creative use of a composite made of rice husks, water, and mineral oil simulates wood. This more sustainable option clads the hulls and brings a tropical feel to the house. Additional sustainable steps were taken such as the use of LED lighting throughout and photovoltaic panels that are incorporated into the roof.
---
Koffka/Phakos Design
6404 Hollywood Blvd. Suite #405, Los Angeles, CA 90028
Koffka/Phakos Design offers complete architecture and interior design services, with sustainability inherent to its design approach. The multitude of homes in its portfolio showcases passive strategies to conserve water and energy and active strategies that use technology like solar, thermal, and photovoltaic to create energy and promote self-sustainability. Recycled and rapidly renewable materials are also the backbone of most of its projects.
The firm's tasteful work has made it the go-to firm for Hollywood elite and affluent residents of SoCal. It has also renovated a portfolio of Los Angeles-based multi-family apartment buildings to certify them with the USGBC's LEED for Homes program. Future projects of the firm include a ground-up construction of a home under Santa Monica's new green building code which has adopted California's 2020 Title 24 in 2019 where the structure produces more energy than it consumes and exceeds T24 by 15%. Currently, the firm is working on a major renovation of a Community Center designed by famed architect Cliff May in the 1960's in Bell Canyon.
The firm was founded by Adrian Koffka and Cynthia Phakos in 2002. Koffka earned his degree in Architecture from the Technische Universitaet Muenchen and his masters from the University of Southern California. Prior to starting the firm, he spent over 15 years designing large scale buildings and housing projects. Phakos also has extensive experience in large projects both commercial and residential. She is a LEED Accredited Professional and an active member of the USGBC and the AIA Committee on the Environment.
---
C/ARC
Playa del Rey, Los Angeles, CA 90293
C/ARC is a Playa Del Rey-based architecture firm that emphasizes progressive environmental and sensual modernist sensibilities in its work. Its three specializations are architecture, landscape, and interiors, with each one grounded in green design. Since 2004, the firm has been a member of the USGBC and is a LEED accredited firm. This enables the firm to bring the best available green resources to its projects and clients. These include single-family and multifamily residences as well as projects in the hospitality, retail, and educational markets.
Ron Culver is the founder of the firm. He is an architect, musician, and artist who graduated from the Southern California Institute of Architecture. His 26 years of experience include the usage of innovative materials and the methodology of many construction types. He has been actively promoting green alternatives since the 1970s. He has been a speaker at the annual Guidance Green Lecture and has had his work featured at the Venice Art and Architecture Tour.
C/ARC's work on the Cleft House in Venice exhibits the firm's innovation and craft. The duplex is part custom home, part prefab home. It uses the firm's factory-built, renewable, recyclable, post-consumer waste steel framing called Adaptabode, which covers the two existing cottages that were partially retained for the project. The highly functional green design also incorporates "metal sandwich" panels that have insulated R-30 recycled foam for effective insulation.
---
Assembledge+
6255 W. Sunset Blvd. Suite #920, Los Angeles, CA 90028
Since its establishment in 1997, Assembledge+ has been pursuing user-focused architecture that is innovative and sustainable. The firm is precise in its craftsmanship, often utilizing current technologies for more efficient ways of constructing modern living and working environments. Its designs for multifamily buildings, retail projects, historic renovations, custom homes, and urban planning have won awards from Architizer, the AIA of LA, the City of Beverly Hills, and the Los Angeles Business Council.
At the helm of the firm is father and son team Richard and David Thompson. David is the Design Principal and Founder and was joined by his father who serves as Principal of Urban Design. Together, they captain a variety of projects from large scale urban planning locally and overseas to contemporary custom homes in Los Angeles and Southern California. Some of the firm's notable master plans were made for California State University campuses and the Hangzhou Eco-City in China. In the residential arena, it has created sustainable luxury homes in Santa Monica, Pacific Palisades, and greater Los Angeles.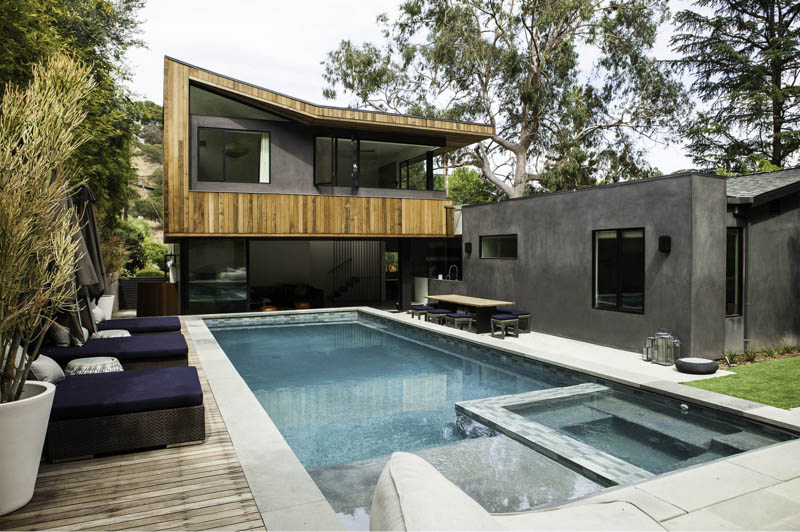 This award-winning home nestled in Laurel Canyon is a mid-century modern charm that fits right in with its neighbors. Sustainably-harvested Western Red Cedar is a striking feature of the exterior and evokes the notion of a treehouse. An array of sustainable technologies fill the home, such as a solar photovoltaic system along with a greywater system for landscape irrigation, as well as Caesarstone countertops and formaldehyde-free MDF kitchen and bath cabinetry. In 2018, it won in a Housing Award from the Los Angeles Business Council Architectural Awards and a Gold Nugget Award for Best Renovated and Restored Home in 2017.
---
SPF:architects
8609 Washington Blvd., Los Angeles, CA 90232
SPF:architects boasts an award-winning reputation and a multitude of services that range from research and conceptual design to schematics and design development. The firm has been recognized with over 80 national and regional design accolades along with numerous local and national features in trade publications. It is led by Zoltan Pali, one of the youngest architects to have ever been inducted into the AIA College of Fellows. His work was heavily influenced by his mentor, Jerrold Lomax. His partner and co-founder, Judit Fekete, accompanies him in the strategic direction and artistic vision of the firm.
SPF:a's designs have become so iconic that its projects are often easily identified in SoCal. These include the Orum Residence, an ultra-luxe Bel Air pad shaped like a propeller, and the Rainbow Bridge in Long Beach. Additionally, the firm is set to finish its work on the Rancho Cienega Sports Complex in 2020, making it the City of LA's first Net Zero Energy building.
The firm is responsible for the otherworldly design of the Ziering Residence. Situated in Pacific Palisades, the home's curved layout takes advantage of passive systems including cooling ocean breezes and the thermal mass of concrete floors. The home also reduces its energy footprint with rooftop solar panels and solar hot water heaters. The project engineer even created a patented 'Climate Right System' that controls all heating and cooling systems.
---
Ehrlich Yanai Rhee Chaney Architects
10865 Washington Blvd., Culver City, CA 90232
Ehrlich Yanai Rhee Chaney Architects is a design and architecture collaboration that utilizes a multicultural modernism philosophy. The award-winning firm is rooted in this philosophy that structural design should be created within the constraints of the site, climate, and the inspiration of culture. This results in sustainable homes and eco-friendly commercial structures that the firm often builds within Los Angeles and San Francisco areas. EYRC serves the residential market as well as the education, civic, hospitality, and corporate markets.
Steven Ehrlich is the founding partner of the firm. A self-proclaimed architectural anthropologist, he is a multi-awarded architect that served in the Peace Corps as their first architect in Marrakech, Morocco. He is a recipient of the AIA California's prestigious Maybeck Award and the 2015 AIA Los Angeles Gold Medal for outstanding lifelong achievement in architectural design. His home on 700 Palms is a sustainable home that utilizes raw and natural materials to blur the lines between indoor and outdoor living. He is joined by Takashi Yanai, Patricia Rhee, and Mathew Chaney.
From start to finish, the Waverly Home in Palo Alto implemented sustainable strategies. All materials from the demolished home were recycled and donated. Building materials like FSC-certified lumber framing and BIBS wool insulation were used as well as efficient systems and minimal water usage. In addition to these, a high-efficiency drip-irrigation system, permeable paving, and smart technology were incorporated into the home to make it a one-of-a-kind sustainable model. The home won multiple awards from the National AIA and AIA LA in 2018. It also earned a Chicago Athenaeum American Architecture Award and a Global Architecture & Design Award.
---
Whipple Russell Architects
15233 Ventura Blvd. Suite Ph9, Sherman Oaks, CA 91403
The son of an American diplomat, Marc Whipple's childhood was spent mostly traveling. Experiencing Europe, Asia, and Africa at an early age helped shape his eclectic approach towards architecture. He attended Eton College and London's prestigious Architectural Association School of Architecture. He then became the protégé of internationally renowned architect George Vernon Russell. Whipple included the name of his mentor in his firm to pay homage to the great influence he had on his design style and philosophy.
Whipple Rusell Architects combine authentic materials, natural light, and green technology to create elegant and efficient designs. From California's steep hillsides to its beaches, easy indoor-outdoor living is also a prominent feature in the firm's residential and commercial designs. The firm's adherence to sensible form and function coupled with its high green technology standards make it one of the firms of choice of discerning California clientele, including sports broker Stephen Dublin. The firm's designs and architecture have been featured in Metropolitan Home, Dwell Magazine, Robb Report, Los Angeles Business Journal, Home Beautiful, In Style Home, The Los Angeles Times, and The New York Times.
The Summit House in Beverly Hills is a great example of technology combined with eco-friendly building techniques. It was the first house permitted under the city of Beverly Hills' green building ordinance. Energy-efficient glass walls surround the structure, acting both as an elegant design element and an environmentally-sound feature. Other sustainable systems of the home include extensive solar power, a gray-water reclamation system, and sound passive-solar design elements. It is also a smart home, with a fully automated shade control system and an entertainment center controlled by a computer.
---
Duvivier Architects
350 Westminster Ave., Venice, CA 90291
Isabelle Duvivier is an advocate for and an expert in watershed health in urban planning. Her architecture reflects this philosophy of integrating water resources and showing architecture's broader context and environmental impact. Her holistic approach to design has earned her two LA County Green Leadership Awards and three Sustainable Quality Awards from the city of Santa Monica.
Duvivier's LEED Platinum Brooks project was awarded the 2013 Innovation Award from the local chapter of USGBC, the 2012 Outstanding Home of the Year award by the National USGBC, and is one of the top 10 green homes in California. She transformed a dilapidated 100-year-old home in Venice into a state-of-the-art model. Rainwater-collecting cisterns and swales act as the home's own watershed while the residence itself is a net-zero and passive solar home. Natural lighting powers the home through solar tubes, solar array, windows, and skylights. Even its materials are repurposed wood or restored home parts.
Duvivier's firm also provides urban planning and mapping services. It serves Los Angeles County and nearby cities and has graced the pages of many publications such as Sunset, Los Angeles Times, Venice Living, Elle Decor, and Building Design + Construction.
---
Brooks + Scarpa
3929 W. 139th St., Hawthorne, CA 90250
Brooks + Scarpa is a nationally-renowned architecture firm based in Los Angeles. The firm has garnered international acclaim for its success in combining innovative aesthetic with sustainable and socially progressive designs. Its residential work, such as the award-winning Solar Umbrella House and Colorado Court, the first affordable housing project in the country to be LEED-Gold certified, prove its proficiency in providing eco-friendly homes. Its impressive accolades include ranking seventh overall top architecture firm in the U.S. by Architect Magazine and 333rd worldwide by Design Intelligence. It is also a 2014 Smithsonian Cooper- Hewitt National Design Awardee.
The firm is co-founded by Angela Brooks and Lawrence Scarpa, leading California architects and fellows at the AIA. Brooks is a recognized leader in the field of environmental and sustainable design and construction. She was the co-founder and past president of Livable Places, Inc., a non-profit development company that was dedicated to building sustainable mixed-use housing and promoting policy initiatives for smart growth. She sat on the Advisory Board of Solar Santa Monica, a program created to achieve net zero energy imports by 2020 for the City of Santa Monica (now the City of Santa Monica Office of Sustainability and The Environment). Scarpa is an equally-decorated architect, with five AIA COTE "Top Ten Green Building" Awards on his resume and 100 other major design awards. He was also a finalist for the World Habitat Award.
One of the more recent sustainable homes Brooks + Scarpa designed is the Yin Yang house in Venice. Recycled and environmentally friendly materials were used like bamboo, composite stone, and tile for countertops and bathroom finishes. The home is designed for passive cooling, incorporates a green roof, and 12 kW photovoltaic system which supplies 100% of the electrical load.
---
Patrick Tighe Architecture
5747 Venice Blvd., Los Angeles, CA 90019
Patrick Tighe is one of Los Angeles's preeminent architects. His award-winning firm has won over 50 design awards, while he has been recognized with the prestigious Mercedes T. Bass Rome Prize in Architecture, the American Institute of Architects' Young Architect Award, and the 40 under 40 Award.
With a research-based approach, the firm explores new technologies and methods to further develop its architecture for every project. The result is a very specific architecture that reflects the inherent conditions of each client, site, program, and budget. This also means the firm is highly adept at sustainable building, incorporating the latest eco-friendly methods and technologies in its projects.
Dubbed the 'Slither,' this Hollywood Hills home is unique yet environmentally sound. The latest in green technologies, materials and building systems were used to optimize the home. Sustainable strategies include photovoltaics for power and a solar hydronic system for the heating of water. Its unique form optimizes airflow, natural light, and sun protection.
---
Dan Brunn Architecture
6363 Wilshire Blvd. Suite #503, Los Angeles, CA 90048
Serving Los Angeles, Malibu, and Southern California, Dan Brunn Architecture has created remarkably diverse projects — from award-winning restaurants to single-family residences and commercial showrooms. Dan Brunn's architecture is defined by its ability to play with natural light and the tactful 'hiding of mechanics' for a minimalist look. Its residential designs have earned awards from AIA LA, A+ Awards from Architizer, and the Most Renowned California Architect Award from the BUILD Architecture Awards.
Tel-Aviv native Dan Brunn received his BA and MA degrees in Architecture from the University of Southern California and Harvard University's Graduate School of Design. The young architect has worked various upscale projects, from a renovation of a Frank Gehry home to remodeling the manse of Pharell Williams' music manager. While his portfolio is filled with highly coveted high-end projects, it also includes green designs and sustainable architecture, including his own home.
The future home of Dan Brunn is the Bridge House—a 4,500-square foot rectangular structure that stretches over a creek in Los Angeles's historic Hancock Park. According to Brunn, the home will "serve as a demonstration of innovative systems and forward-thinking processes." The Bridge House will be net-zero, using solar panels on the whole of its roof to generate power. It will also use BONE Structure, which is essentially a life-sized erector set with posts and beams fabricated at a factory, delivered to the site, and assembled using screws. The end result is an all-steel structure with no waste.
---
David Hertz Architects – Studio of Environmental Architecture
57 Market St., Venice Beach, CA 90291
Leading Los Angeles into a more sustainable and eco-friendly future is David Hertz, FAIA and the Studio of Environmental Architecture (SEA). The studio approaches sustainability through innovative systems-thinking at all scales, from materials and products to buildings and entire communities. It is a certified Green Business by the City of Santa Monica and has earned sustainability awards from the city, the AIA, and the USGBC.
David Hertz is a renowned name in the architecture scene. At a young age, he apprenticed under famed Los Angeles architect John Lautner. He received his architectural degree from the Southern California Institute of Architecture and went on to work in the office of Frank Gehry before founding his own firm in 1984. SEA was established in 2007, and in the following year, he was elected to the prestigious College of Fellows of the AIA as the youngest member in its 152-year history.
One of the firm's famous sustainable homes is the 747 Wing House, which has been featured in numerous publications along with its own episode in Netflix's "The World's Most Extraordinary Homes." SEA upcycled the wings and tail stabilizers of a Boeing 747 to be the roof of the poetic home in Malibu. Other sustainable features of the modern marvel include photovoltaic panels, radiant heating, natural ventilation, and heat mirror glazing. The home won an American Architectural Award from the Chicago Athenaeum Museum of Architecture and Design, an AIA | CC Residential Design Award, and was featured in Record Houses.
In 2018, David Hertz and his team won the Water Abundance XPrize. Their winning innovation sustainably produced over 2,000 L of water in 24 hours, at a cost of $0.02/L. They are continuing to develop the technology to democratize water throughout the built environment.